We started our divorce recovery tip series to provide advice in an easily-digestible format, but sometimes we can't say everything we want to in one image. This blog series will expand on our tips and provide some extra insight into the divorce recovery process.
Tip #1 – Take time each week to pamper yourself.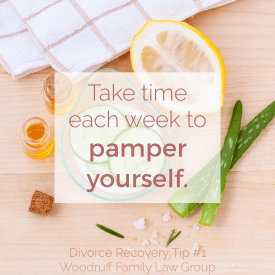 After divorce, we don't often feel great about ourselves. We may wonder why it happened, what we did wrong, or what's wrong with us. And while we may know that there's nothing wrong with us, knowing that doesn't always make us feel better.