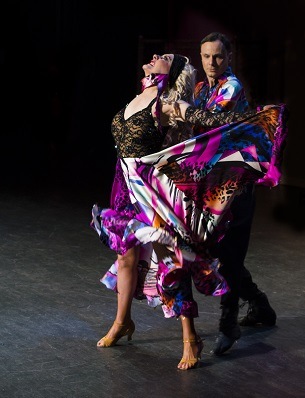 With the dash of nomadic color and custom costumes from leading Hollywood design company, Lenique,  my dance partner, Alosha Anatoliy and I will take the stage in New York City this coming weekend.  Lena Kosovich, owner of Lenique, is a costume designer extraordinaire—herself having been a world champion show dancer,  a pro on Dancing with the Stars, and a costume designer for the hit show Dancing with the Stars.  "Working with Carolyn and Alosha to create the colorful, 'boho' costumes for their dance was the ultimate in a creative experience,"  says Lena.  My's costume is built around a two circle skirt in a vibrant, contemporary fuschia silk print. Artistically placing Swarovski crystals to catch the stage light is painting in action.   Alosha's shirt mimics my skirt, and his outfit is complete with unique pleats and a broad tie belt.  The costume must enhance the dance, and these dramatic costumes steal the show.
Alosha and I started dancing together in April 2006, ten years ago this month. We have been invited to perform at Dance Legends 2016 this April 9 in New York City. Dance Legends showcases the very top professional Ballroom and Latin dance couples in the world. This is our fifth year in the historic Hammerstein Ballroom (NYC), and we are adding an element of folk culture and surprise to their performance. Alosha is a principal owner of the Fred Astaire Greensboro.  Alosha and are are the only pro-am couple that has had a place in the Dance Legends New York City show for all five years.  Dance Legends will also feature some of the pro couples from Dancing with the Stars, such as Karina Smirnoff.
We had an opportunity to study dance with Russian folk dancers in Moscow last summer when we were in Moscow for an appearance at the Kremlin Palace show called Star Duo.  The Star Duo was viewed by 80 million people on Russia 2 television. Several days after Star Duo,  We danced on the stage in Moscow with a Russian Folk Dance Group known as "Romance," who were performing at the Soviet Hotel, which is the formal official site for international guests and important meetings.  The Soviet was where Britain's Margaret Thatcher always stayed.  What a hoot that was!
With the inspiration gleaned in Moscow, the duo along with famed choreographer Taliat Tarsinov developed a show-stopping folk dance routine.  Flowing and colorful costumes add a playful point of view.  Movement adds traditional nomadic characteristics combined with our own performance skills in paso doble, theater arts,  flamenco, and Viennese Waltz creating an "American Gypset" way of dance.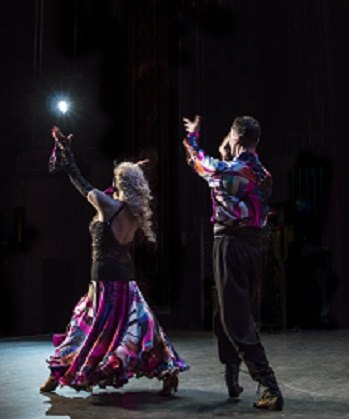 The music adds to the playfulness and changes pace from slow and soulful, to fast and raucous.  The theme, an original poem by my husband, Dwight Ensley, starts the number:
The nomadic queen is my love
That is foretold on my palm
She reads my palm and runs away
And stole my precious ring anyway.
For over 20 years, North Carolina Family Law Specialist, I have been helping people during traumatic times of their lives. I frequently work long days working for my divorce clients but reduces stress after work by dancing.  After 20 years of marriage, I found herself facing divorce: when I came home, my now ex-husband had left. To occupy my mind, a friend suggested that I check something off her bucket list. I chose dance.  As the years passed, I continued with my lessons and now have become a national ballroom dance competitor and champion.  My dance partner, Alosha, and I are international reality TV celebrities in the Simon Fuller production, 'Ballroom Blitz' which aired on TLC (The Learning Channel) in several European countries and the US.  We also starred in two episodes of Dance League on American Sports Network last year.