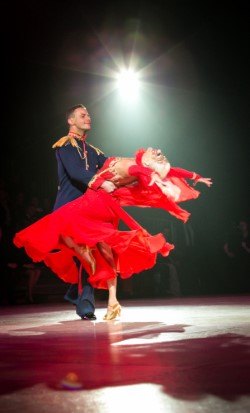 On June 8, Dance Legends from Russia, USA, Italy, South Africa, Denmark, and Azerbaijan will perform at the State Kremlin Palace, Moscow, Russia in "Stellar Duo."
Carolyn Woodruff, known as the Dancing Divorce Attorney, will represent the USA for the second year in Moscow, Russia in the "Stellar Duo" with partner, Alosha Anatoliy (from Ukraine, now US citizen). The two have been dancing together since 2006 and are the reigning United States Pro-Am Show Dance Champions. The two have also won several titles for themselves in the last 10 years including; Gold Medalists at the 2016 United States Dancesport Championship, Fred Astaire National Dance Championship in both Smooth and Cabaret, Best of the Best in Gold Show dance at the Millennium Dancesport Championship, and were featured on Simon Fuller's Ballroom Blitz, which played in over 10 countries.
"Alosha and I are so privileged to be representing the United States for the second time in Moscow. We understand what an honor it is to be included in "Stellar Duo" with all this world turmoil between the United States of America and Russia. We believe that Art and Dance will rise above the political unrest," says Woodruff, owner of Woodruff Family Law Group, Greensboro, North Carolina. 
"I feel very honored and excited to be part of this very special event and share the Mystery of Masquerade," says Alosha Anatoliy, owner of Fred Astaire Greensboro.
Carolyn and Alosha's beloved choreographer, Taliat Tarsinov, who is sought after worldwide, is the event's Artistic Director.
"It is such a privilege to be the Artistic Director of "Stellar Duo" and to be able to bring the world's best ballroom dance couples together for one exciting evening in Moscow at the beautiful Kremlin Palace," says Tarsinov.
Tarsinov began his career in dance in 1974 in Russia, turned professional in '88, and began choreographing after his professional dance retirement in '95. Tarsinov now resides in New York. Tarsinov has chosen "Mystery of Masquerade" as the duo's theme. This theme has quite the history lesson. The choreography is a twist on the Russian play Masquerade, written in 1835 by Russian romantic writer Mikhail Lermontov. The music–was written a century later- by Khachaturian. Interestingly, the Masquerade play with the Khachaturian music was the last production on June 21, 1941, at the Vakhtangov Theatre in Moscow—just before the invasion of the USSR in Germany.
The mask's origin (worn by Carolyn) has the premise of being unknown, being equal, dancing and living without judgment. The masks set you free and let you create your identity; let you reestablish yourself. This year at the "Stellar Duo," Carolyn and Alosha will allow themselves and their audience to let go, become unified, and live without fear- or judgment as a message from the USA to Russia.
"This dance is going to be very powerful. It tells a story of a beautiful masked woman who has a chance meeting with a Russian Officer. When it starts, Carolyn (acting as Baroness) is very timid and afraid get to know the officer because she is already married to another. In the end, she runs away after the officer takes off her mask and exposes her to the world," Tarsinov says.  
The story of the Masquerade dance paints a parallel to our current world, particularly with all the US and Russian controversy. Regardless, dance is universal. It does not matter where you are from, what language you speak, how much money you have, you understand the art of dancing. Dance is culture.  Dancers are storytellers; they have the ability to transcend themselves and their audience. Dance is an outlet for so many. An outlet for creativeness, depression, weight loss, enjoyment or even recovery. Dance can be used to rise above, to mend fences, and break down barriers- nationally and internationally.
 "Dance unites. Dance is a universal language, a language of beauty, of peace, of wisdom, and of exploration" Woodruff says.
If you wish to follow "Stellar Duo" this year, visit the website http://stellarduo.com, or watch on the Russian Federal Channel, Culture, which will televise the show to 100 million people.
See pictures and performances on Facebook and YouTube.