North Carolina recently enacted a new law that formed a regulatory sandbox for financial and insurance technologies (often termed Fintech and Insuretech). It also commissioned the formation of an "Innovation Council" that serves to receive and approve applications for "entry" into the so-called sandbox. This new law will be codified in NCGS § 169.
First of all, what is a regulatory sandbox? It is a program that permits a person or entity to temporarily test innovative financial and/or insurance products and services without being subject to licensing and regulatory obligations that the state would traditionally require. NCGS § 169-1(11). The term sandbox is apt—imagine it like a giant sandbox where these applicants would be tinkering and testing all sorts of new products that normally would be stymied by long or complex regulatory schemes. Another term might also ring a bell for those in the tech sector: beta test.
The Act also created an Innovation Council which serves as the gatekeeper for entry into the sandbox, but also carries duties to support innovation, investment, and job creation in the state, and they also set standards, principles, guidelines, and policies governing those granted admission into the sandbox program and their respective innovations. NCGS § 169-4.
Those who wish to apply for entry into the sandbox can do so by submitting an application along with a $50 fee. If admitted, a $450 fee for agency expenses will be levied, and may increase based on the Council's discretion (as long as it is not unreasonable). Applicants must be a corporation or other organized entity (partnership, LLC, etc.) with a physical presence in the state. Individuals who are substantially involved with the admitted entity will be subject to background checks. There are currently six factors the Council considers when reviewing an applicant for entry: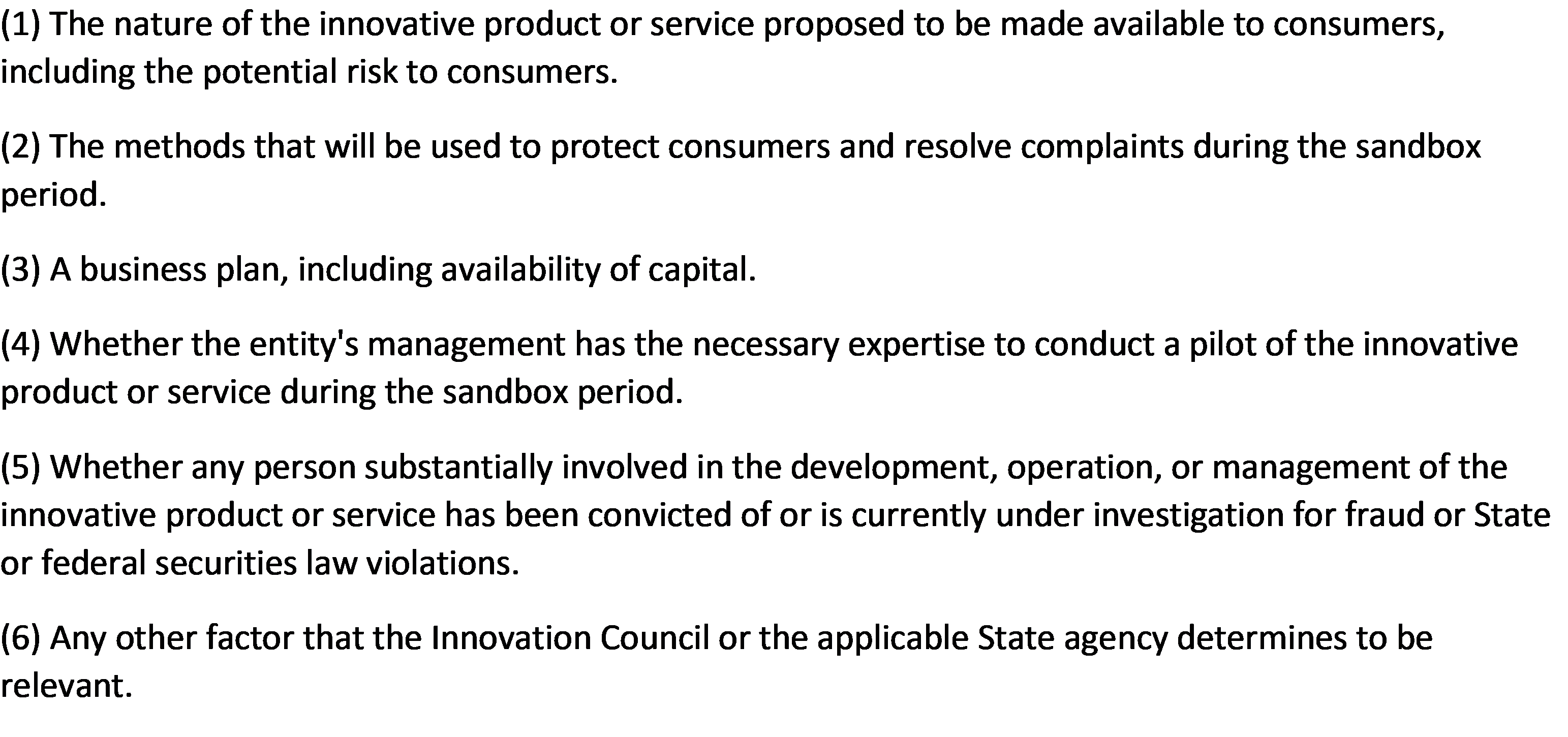 If approved for entry, an applicant will have up to 24 months, or more if an extension is granted (upon application no later than 30 days before the expiration of the 24 months), to test their product/service. These products/services will only be available to residents of the state, except for money transmitters. Agencies that traditionally oversee the sector in which a product/service is regulated may specify some particular rules that the applicant must also adhere to, such as the maximum number of consumers that they may enroll into the test. After the testing period ends, the Fintech/Insuretech product/service and entity will have 90 days to obtain regulatory compliance with their applicable agency. NCGS § 169-7.
NCGS § 169-11 specifically addresses blockchain. Pursuant to the Act, the blockchain is defined as "a method for storing cryptographically secure data in a database or distributed ledger technology that is decentralized, consensus-based, mathematically verified, and distributed across multiple locations." This section grants the Council to explore, analyze, and make recommendations about implementation of blockchain technologies that may benefit the state and commerce. Blockchain applications such as smart contracts are beginning to be explored as a tool in industry. Moreover, in § 169-2, the state Legislature found that smart contracts are legally enforceable under the Uniform Electronic Transactions Act. More developments on how precisely those contracts may be enforced are still unclear, but this section serves as a beacon that perhaps the state courts are preparing to entertain disputes over a smart contract.
The Act is being heralded as an innovative and forward-thinking legislation that will contribute job growth and innovation to the state. The Act has already called for non-profit organizations to begin preparing to assist with applications for entry into the sandbox program. North Carolina is aware that these sandboxes allow entities to move fast and innovate more freely, but the state is also aware that consumers need protection. See NCGS § 169-8 for the list of protective measures. For our state to be a leader in innovation in Fintech is valuable, and a sandbox program could usher in a robust marketplace for Fintech products.