I am just like my Father: I have come to this realization as I get older. From the red hair, the red-headed temper and the overly kind and generous heart; I thank my father. It wasn't until recently, though, that I realized how much I am like him. Quiet at times, especially around new people; he becomes the life of the party once he is around his people. I realized that in my mid-twenties I was the same way. Turning junk into treasure, an eye for color and design and the overwhelming and sometimes heavy load of putting everyone else's needs and worries before myself is me and my father. He taught me how to drive the wide open roads respectfully in the Pennsylvania Mountains and the unique connection you can make with a four-legged friend. I owe my Dad the world and so much more. How will you spend Father's Day with your Dad this year?
On Father's Day weekend both the Greensboro Grasshoppers and the Winston-Salem Dash have home games. Nothing could be better than watching the great American pastime, baseball. Grab some hot dogs, a cold drink and of course a bag of peanuts and reminisce of playing catch in the backyard.
If your Dad is like mine, he taught me the rock n' roll basics growing up. While driving in his SAAB 9000, we blasted rock n' roll tunes. Check out the upcoming shows at Cone Denim Entertainment Center and surprise your Dad with tickets to a band you both can rock out to. They always have amazing live cover bands that make you feel like you are watching the original group!
Just a short drive out of the Triad, Hanging Rock State Park offers a day in the woods for you and your Dad. Take the trail up to Hanging Rock and enjoy the beautiful scenery together. What Dad wouldn't love time in the forest with their child? They also have great picnic areas so pack a lunch with all of his favorites!
Give your Dad the afternoon off and you grill the steak this time. Spend the morning at the Curbside Farmers Market in downtown Greensboro picking out fresh veggies and other local goods. He will enjoy the meal made by you and the time spent together. Don't forget to get something sweet when you are at the Farmers Market; pies are always a Dad favorite!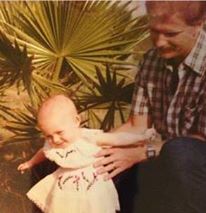 Forget the tie and think of something outside the box for your Dad. The Triad offers many unique gifts for Father's Day that he will adore much more than the yearly Father's Day tie gift. Design Archives in Greensboro and Winston-Salem host artists that hand craft unique gifts from coasters to coffee mugs and artwork. It is also fun to shop here because you support local artists, and yes your dad would appreciate that too!
All your Dad wants is time with you. It doesn't have to be expensive or flashy, just time with you his child. Talk about memories and make plans for future adventures together. If anything just tell him how amazing he is. I know I will tell mine that.