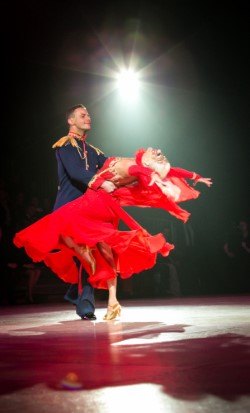 On June 8, Dance Legends from Russia, USA, Italy, South Africa, Denmark, and Azerbaijan will perform at the State Kremlin Palace, Moscow, Russia in "Stellar Duo."
Carolyn Woodruff, known as the Dancing Divorce Attorney, will represent the USA for the second year in Moscow, Russia in the "Stellar Duo" with partner, Alosha Anatoliy (from Ukraine, now US citizen). The two have been dancing together since 2006 and are the reigning United States Pro-Am Show Dance Champions. The two have also won several titles for themselves in the last 10 years including; Gold Medalists at the 2016 United States Dancesport Championship, Fred Astaire National Dance Championship in both Smooth and Cabaret, Best of the Best in Gold Show dance at the Millennium Dancesport Championship, and were featured on Simon Fuller's Ballroom Blitz, which played in over 10 countries.
"Alosha and I are so privileged to be representing the United States for the second time in Moscow. We understand what an honor it is to be included in "Stellar Duo" with all this world turmoil between the United States of America and Russia. We believe that Art and Dance will rise above the political unrest," says Woodruff, owner of Woodruff Family Law Group, Greensboro, North Carolina. 
"I feel very honored and excited to be part of this very special event and share the Mystery of Masquerade," says Alosha Anatoliy, owner of Fred Astaire Greensboro.
Carolyn and Alosha's beloved choreographer, Taliat Tarsinov, who is sought after worldwide, is the event's Artistic Director.
"It is such a privilege to be the Artistic Director of "Stellar Duo" and to be able to bring the world's best ballroom dance couples together for one exciting evening in Moscow at the beautiful Kremlin Palace," says Tarsinov.